Dean Arbour Detail Shop

Premium Detail : $249.95
Includes full detail
Tar & brake dust removal
Ceramic paint sealant applied
Full Detail : $199.95
Includes interior detail
Includes exterior detail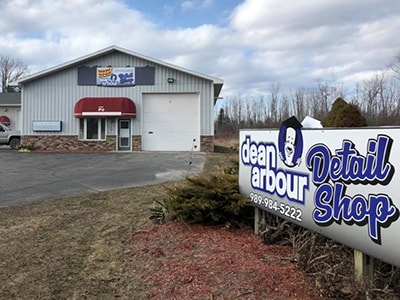 Interior Detail: $119.95
Thorough Vacuuming
Clean air vents
Clean and dust dash, console and door panels
Shampoo seats, carpets and floor mats
Leather cleaning and conditioning (if applicable)
Interior Windows
Exterior Detail : $99.95
Includes ultimate exterior wash
Tar, bug and brake dust removal
Ceramic paint sealant
Rims, tires and wheel wells cleaned
Clean exterior windows
Shine chrome (if applicable)
*Hand wax application (Add $10)

*Additional charges may apply to oversized or poor condition vehicles*
Dean Arbour Detail Shop in Tawas City, MI
Do you know what it means to detail an automobile? Auto detailing is a series of professional procedures that restore the vehicle to the best possible condition. A detailing appointment will make your car look and smell like the day that you first bought it. Detailing applies more to cleanliness than it does to the mechanics. At Dean Arbour Ford of Tawas, there's an onsite detail shop where you can have your Ford Escape thoroughly cleaned. We have five packages that you can choose from and schedule at your local Ford dealership near East Tawas.
Auto Detailing Packages at Dean Arbour Near Oscoda
Premium Detail
Full Detail
Interior Detail
Exterior Detail
What do you want detailed on your Ford Explorer? Would you like to focus on the SUV's interior or exterior? Both? Several procedures restore that outer shine and bring back that new-car smell when it comes to automotive detailing. We'll vacuum, clean the air vents, wash the exterior, and shampoo the carpets, floor mats, and seats. We can also apply ceramic paint sealant, remove tar and brake dust, and clean the rims, tires, and wheel wells. Depending on what condition your Ford F-150 is in, you can request the perfect detail package.
Each package has a different price and combination of detailing tasks. If you'd like help deciding which one to schedule, contact the service department at Dean Arbour Ford of Tawas, serving Whittemore, MI. We'll happily make a recommendation for your Ford Fusion or Ford Ranger.
Request Professional Detailing for Your Ford Today
After buying a new Ford or used car from us, you can bring it back for a good detailing whether you've driven it for six months or five years. There's nothing better than having a vehicle that smells new and looks polished. The experts at Dean Arbour Ford of Tawas, serving Hale, MI, will have your Ford Edge returned to you looking like the day that you signed on the dotted line and got the keys. Schedule a detailing appointment today.
* Indicates a required field